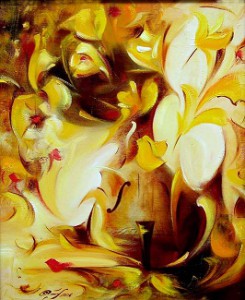 Jusuf Rasul
I have not told anyone about this case which turned over all my thoughts. But what shall I do? I must somehow unburden my heart, after all. Perhaps I can load off my mind in this way.
I have always looked with emotional shock at the girl living in the house next door. That's the way I feel today, too. In the beginning, the extremely pleasant and beautiful girl walked in a naughty way, which was very becoming to her. Then, apparently, something happened in her life, and her mischief gave way to despondency. This sad girl's name was Gulru.
One day I screw up my courage and asked her why she was so sad… And that was beginning of all this.
The feeling that filled her heart with sorrow and suffering was Love.
I am in love with a young man. But love has brought me more misery than happiness. The more I strive after him the further we drift apart. Gradually a big, insurmountable barrier arouse between us. That barrier was a window – said Gulru darkly.
Love renews the human soul. The feeling of love for the desired fellow changed Gulru entirely. Gradually, she began to prefer privacy. It came to the situation when she sentenced herself to seclusion in the house without doors and with grating on the windows.
I decided to help the shiftless but extraordinarily beautiful girl. I wanted to reunite with her Gulru beloved one.
One day at dawn, I came up to the window of the young man and quietly looked inside. A visual world stretched before my eyes. On either side there were debris of Hope, little fragments of Dreams and many heavy stones of Abstraction, preventing one from walking through Life freely.
I gently tapped on the glass with my nail. Then I started tapping strongly. He did not turn. He didn't even think of asking "who was there". I got angry with him, yet I held my feelings in check.
– What do I need it for? What do I care about them? I'd better go. Never again shall I step my feet near the house of such a selfish man.
That's what I thought. But them again, recalling the sad look of the girl, I changed my mind. The next morning I came back to that window with withered painting and looking faded.
He was changing his shirt. Suddenly the inscriptions on his shirts attracted my attention. On the dirty shirt which he had taken ofа the word "I" was
Written. The new one which he had put on and was now looking into the mirror the inscription read "You".
Like I did the first time, I gently knocked on the window. Then I started knocking louder. He turned round to look. Then, looking in the mirror which he was holing in his hand, he walked in my direction. No, he didn't look like a laid-back person. By the way he looked, I could trace intelligence and good manners in him.
– "Well, what you really want? Why do keep standing by my window"
I wanted to explain to him how the poor girl is suffering, not knowing his intentions. But all I could say was: "Gulru … She loves you … She is waiting for you …"
– Go away … I know everything… Leave me alone – he said emphatically and left.
I felt that something was tormenting him. Something…
The next morning I went there again. He was in the same state. But this time he silently drew the curtains on the window and vanished into thin air and heavy silence inside.
Now what could I do? Unable to explain myself and understand him, I fell into painful thought.
– Gulru – I said when I saw the girl again – he does not want to understand you. Please go to him yourself. You love him, don't you? I for one just can't do it..
He comes to see me every day. You do not know it – she said thoughtfully – but, he doesn't say anything. He just keeps staring at me. Staring for a long time. Then he silently goes away just like the way he came. In silence. I am worried"
What should I do? How can I save the poor girl and poor fellow from suffering? These questions gave me no me rest.
– Please … I ask you, we must talk. Come out if you can – I told him the next day.
He glanced at me reproachfully from the window. Suddenly I saw entreaty in his eyes … No, it was rather a terrible secret, and I almost shouted. Yes, it was a sad picture.
He smiled. Yes, he smiled. His smile showed deep regret. I do not know whom he actually regretted himself, or me? When I come to Gulru, the window disappears. But when I see you…
From that day on I took a dislike to the window. Every day have an urge to break down. To break into small pieces. But it's beyond my power. Besides, I don't know why but I like the window. She lives in this window. In addition, I myself love Gulru most sincerely.
Day after day, visiting my extraordinarily delicate Gulru, I began to feel a more and more growing affection to her. The girl felt it too. Sometimes she would whisper a long a prayer:
– Forgive me, my Lord! Give strength! Every day I feel something. That something comes, of course, from your omnipotence!
– Gulru – I say distracting her from his thoughts – will come here today, too?
Glimpses of joy appeared in her eyes:
Yes, he will! In fact, if you come, he comes along with you. When you leave he disappears without a trace.
She weeps resting her head on my shoulder. I cannot listen to such a sad melody.
Today I went to see him again. The man in the window was waiting for me.
– I cannot help you, – I said in a pleading voice – if you have compassion on yourself, come out. I am no longer able to see you live in seclusion in the house with no doors, and look sadly out of this window.
He started shaking with pain and fear. His lips softly whispered:
– Do you know where you are taking me? It's a sin, don't you think?
No, it was not his cowardice that surprised me but his voluntary choice of such a fate. I explained to him that the window could be opened from outside, not from inside not open from the outside and inside. If the catches are rusty, they can be broken. It's true. Otherwise we will never be able to understand each other. And I won't be able to introduce myself to him and him to Gulru.
The girl was joyful on that the day.
– Come every day – Gulru said – and he comes as well. When you go away, my soul is empty. I must admit … I love you, and not him. To me he doesn't live any more. He is dead!
– Think what you are saying, Gulry!
I blushed for excitement and strong offense
– He loves you, doesn't he! As for me I am nobody. You should thank God for the young man. Here I stand before you. I cannot, like a helpless loving man, topple my petty undeserving feelings over crystal clear love.
Gulru, suddenly burst out laughing. Then her face turned gloomy and she in a sharp tone :
– Go away! I do not want to see either of you! Get out!
What should I do? I wanted to do good to her. She did not understand.
He was waiting for me inside, behind the window. "I'll go and tell him in his face of all his faults and sins." But everything came off differently from what I had expected.
– It will soon open. Come on, help me.
There was no fear on his face any more. He was unusually quiet.
Yes, he was drunk from the anticipation of eternal freedom!
Translated by Alec Vagapov
www.yangidunyo.com